Welcome to Canadian Moringa
Canadian Moringa offers a range of healthy and delicious food products made with Moringa, Earth Apple, and other natural ingredients.
Our products include Moringa tea, Earth Apple tea, and sauces and seasoning, that is infused with Moringa and Earth Apple.
We aim to provide high-quality, functional foods that help improve health and wellness, and are made using only the finest ingredients, sourced from sustainable and ethical suppliers.
If you are looking for an easy way to add more plant-based nutrition to your diet, Canadian Moringa has products that will work for you!
Proven Plant-based Source of Protein
Moringa contains high amounts of protein, which makes it an incredible tool if you're looking to reduce or eliminate meat from your diet
Powerful Nutrients
This plant packs a powerful nutrient punch. Moringa is rich in vitamin A, vitamin C, potassium, calcium, iron and protein.
Moringa also contains 18 amino acids in total and it contains all of the Essential Amino Acids that the body needs to consume for good health and cell structure.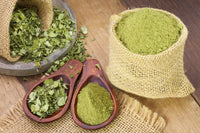 A Natural Source of Fibre
Moringa is a natural source of fibre.  Fibre is essential as it promotes healthy digestion, lowers cholesterol, and can help control your blood-sugar level all important for your overall health.